Longjumeau, France ~ Orange County, CA USA – September 2021…  Frenetik have announced the appointment of Allied ProTech as their exclusive distributor for the United States.
Frenetik is a French brand that designs and manufactures professional Dante™ and PoE audio solutions. Since its introduction in 2019, Frenetik immediately received an enthusiastic welcome from AV integrators, distributors, IT services and AV planners, confirmed by our rapid development on the international market..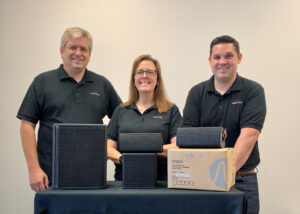 We are delighted to introduce Allied ProTech, our new partner. Allied ProTech puts its trust in Frenetik's products and becomes the exclusive distributor in USA.
According to Rik Kirby, Allied ProTech's President, "Frenetik's range of PoE+, Dante enabled, loudspeakers really fit a need we were seeing in the market, and that we were getting requests for from our customers. As soon as we got the first samples in our hands we were impressed. These speakers are compact and unobtrusive, very well built, priced right and they sound great. As we distribute many complimentary products Frenetik fit our portfolio nicely and has been very well received by our partners in the US market, we're looking forward to working with them."
"For Frenetik in the United States, we needed a partner with a good understanding of the technology behind our products and ready to provide the right support to the market. That's exactly what we found with Rik and his team at Allied ProTech, and we are confident we are starting a fruitful and long-term collaboration," says Alain Hercman, Frenetik sales manager.
For more information about Frenetik and their full line of products, please visit the Frenetik page of our website www.alliedprotech.com/frenetik