Luminex GigaCore network switches are tailored for Audio, Video and Lighting applications with simple, preconfigured setup. Designed to be configured and operated by AV professionals Luminex products require no specific IT training to successfully implement complicated converged networks.
Luminex GigaCore network switches like the GigaCore 26i and GigaCore 10 are fully preconfigured for Dante, AVB Milan, AES67, Q-LAN, Ravenna, sACN, ArtNet and many other protocols. All are available with PoE/PoE+ options to power additional devices.
LumiNode Ethernet to DMX nodes and gateways offer simple yet powerful connectivity from Ethernet and the industry standard lighting protocols to DMX, along with the benefits of Luminex's processing engines for advanced operation.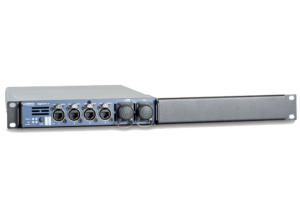 GigaCore 10
GigaCore 10 with 8x EtherCon connectors
The GigaCore 10 is by far the most versatile Luminex Gigabit switch ever built. The half 19" unit with front and rear connectivity is designed to be mounted in a truss, in a rack or even on a wall. The robust metal enclosure and rugged Ethercon and (optional) Fiber connectors make this unit excel in truss mounted applications with Ethernet enabled devices, such as moving lights, PA systems, microphones, cameras or general stage connectivity. But also to ensure ultimate redundancy the GigaCore 10 is an excellent choice. Just by coupling two units, AV professionals can create a full 19" rack combination with a primary and secondary unit.
Luminex GigaCore switches a pre-configured for many AV protocols including Dante, AVB Milan, AES67, Ethersound, Q-LAN, Ravenna, sACN, ArtNet etc.
Shown with optional Neutrik OpticalCon connectors
Additional configurations available